How do you prevent tangling/matting and reduce shedding?
Thankfully, there are some simple ways to reduce shedding and ensure that your hair extensions remain smooth and tangle-free.
Brush your hair often
The first and quite possibly one of the most important steps is to brush your extensions out before washing them and only once the hair is 90% dry. This helps minimize the possibility of breakage and shedding because the hair is at its weakest point when wet. Keep in mind it is also more susceptible to breakage when wet. Instead, use your fingers to gently loosen any tangles. Always gently brush your extensions before and after each use to reduce shedding and breakage. This will also prolong their lifespan. You can do this by starting at the ends and making your way up to the roots. 
The Loop Hair Extensions Brush is a hair extension user's dream as it is specifically designed to be used on different types of hair extensions—not just clip-in hair extensions. The brush has unique nylon "looped" bristles which easily glide through the hair and remove any tangles. Due to these looped bristles, the brush does not cause pulling, snagging, or damage to your wefts. Alternatively, you can use a wide-tooth comb or a soft bristle brush. Always have a brush in your bag, so that even when you're out and about you can still give your hair a quick brush.
Keep your hair extensions moisturized
Keeping your extensions moisturized and nourished is crucial, considering they don't have a natural hydration source like your own hair does. If you are brushing your extensions throughout the day and you seem to notice dryness or some minor breakage, apply a pearl-size amount of a lightweight or water-based hair serum or a lightweight oil, like argan oil. Always ensure you apply it from the midshaft of the hair down to the ends and follow by brushing the extensions to evenly distribute the product throughout. Remember, less is more. You do not need to apply a hair oil daily, as this can cause buildup on your extensions. Instead, you apply it once a week or when you notice significant tangling and dryness. 
Use the right hair products
The proper hair products make all the difference in whether your extensions will tangle or be soft and manageable. Purchase products specifically formulated for dry and damaged hair, as they will help keep the strands healthy and nourished. Also, look for products that add moisture to the hair like argan oil, coconut oil, and castor oil. Purchasing sulfate and alcohol-free products is a necessity as they are imperative to maintain the health of your extensions. These ingredients strip the hair of its natural oils and will affect their integrity. This, in turn, makes the hair drier and more prone to tangling or matting.
Read the ingredients list
Always be sure to do one simple thing before you buy any product - flip it over! Many products out there have sulfates and alcohol hidden in their formulas. Also, keep in mind that not all companies claiming to make sulfate-free shampoos are truly free of sulfates. Be sure to check the ingredient listing and ensure you don't see the words: SLS, Sodium Lauryl Sulfate, Sodium Laureth Sulfate, Alcohol denat, Ethanol, SD alcohol 40, Propanol, Isopropyl, and Propyl. To learn more about what products you should avoid using, click here.
Hydrate your hair extensions 
Since your extensions don't absorb the oils your natural hair would, you don't have to wash them as often. As a general rule, the less you wash your extensions the longer they will last you. When washing your extensions, it's important you hydrate them as much as possible, and apply a moisturizing sulfate and alcohol-free conditioner before and after shampooing. Sometimes, you can even skip the shampoo and only co-wash your extensions with conditioner! Always be sure to rinse the extensions in cold water at the end to close cuticles and lock in moisture.
When you notice your extensions getting dry or tangled, apply a deep conditioning treatment or mask. This will hydrate and restore some moisture back into them, as well as help make them softer and more manageable to style. It's an easy and simple process to do—all you have to do is dampen your extensions and apply a generous amount of a sulfate and alcohol-free deep conditioning treatment or conditioner to the hair, and let it soak in the product for 5-6 hours or overnight by placing it in a shower cap or a plastic bag. Rinse off as normal the next day.
Use an oil treatment on your extensions
Another way to infuse moisture back in your hair extensions is with an oil treatment, like coconut oil. First, measure out two tablespoons of coconut oil and warm it up until it melts. Then, apply it to dry hair from the mid-shaft working your way down and focusing most of the product on the ends. You can also leave this treatment on overnight for best results. In the morning, wash the extensions as normal. Keep in mind that coconut oil is very heavy so you may need to shampoo your extensions twice to get rid of all of the oil from the hair. 
Handle your hair extensions with care
Improper hair care can also take a toll on your extensions. When washing, make sure to handle the extensions gently and to not rub them vigorously. After you are finished, carefully squeeze any excess water from the extensions. Never rub your extensions dry with a towel. Instead, always lay them out on a flat surface and gently pat them dry. When air drying, invest in a microfiber towel as it will remove excess water faster and it won't rough up the hair (which can also cause tangles). 
Limit heat styling and always use a heat protectant
We do not recommend blow drying your extensions after every wash as doing this constantly will make them dry and more vulnerable to breakage. If you can avoid it, we highly recommend air drying your extensions for the safest route as this will also prevent against tangles. Also, we always suggest using a heat protectant spray prior to using any heat styling tool to extend the lifespan of your hair extensions. Additionally, we recommend to only use a low heat setting of 120C/250F, as anything higher runs the risk of damaging the hair.
If you need to use your extensions immediately after washing them, the most important thing is to ensure that you are using a cool setting to prevent any heat damage and that you don't brush the hair until the hair is 90% dry. When blow drying, start by focusing on drying the root of the weft first and then working your way down to the ends. Always blow-dry downwards as this will help to not only smooth the cuticle but it will also prevent the hair from getting tangled since it is being blown in lots of different directions.
Limit the use of heavy hair products
Limiting the number of products you apply to the hair will help with tangling. Using sticky products such as hairspray, hair gel, or hair wax, can and likely will clog up your extensions. The more products you use, the more you will need to wash your extensions, leading to dry, tangled extensions. Also, keep in mind that any products that you use on your natural hair can transfer onto your extensions. 
Your extensions have a beautiful, healthy finish already so you shouldn't need much product to enjoy them. If you want more hold when curling your extensions, try pinning up the curls and leaving them overnight or even just for an hour to ensure the curls stay in place without the use of hairspray. If you do want to reach for hairspray, consider a lightweight formula which you can still easily brush through. Extra strength hair sprays will clog up your extensions, which means more washing. 
Store your clip-in hair extensions neatly
Starting a good storage routine from the moment you start wearing your new extensions is crucial as it will prevent tangling and matting in the future. Always ensure that you brush your extensions before and after each use. Interested in learning about the best way to store your Luxies? Click here to find out more!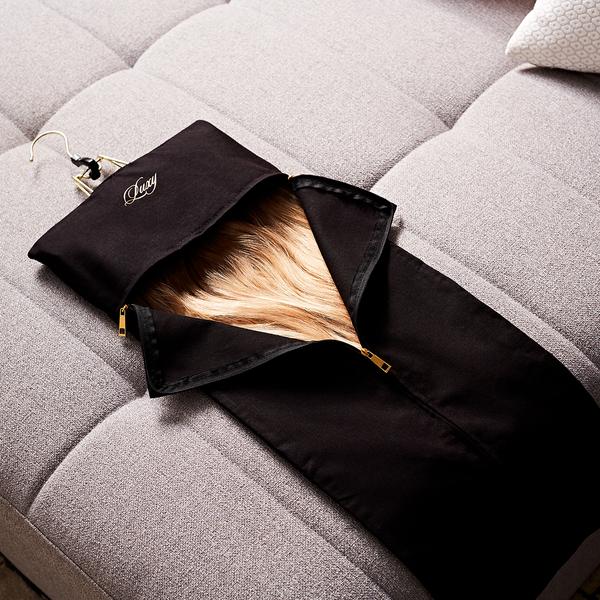 Remove your clip-in hair extensions before sleeping
Clip-in hair extensions should always be removed before sleeping, as they can get extremely tangled throughout the night if worn to bed. Since they only take a few minutes to clip in, and seconds to remove, removing them daily will maintain the integrity of the hair. You can store your hair extensions in the Luxy Hair Extensions Carrier, or, neatly coil them and store them in an airtight shoebox or container.
Do not swim with hair extensions in
One of the most important things to keep in mind when wearing hair extensions is to not wear them while swimming or taking a shower. You can definitely wear them to the beach or by the pool, however, we do not recommend getting into the water with them (unless your hair is tied up and will not get wet).
Have you ever noticed how dry and tangled your natural hair feels after swimming in a chlorinated pool or salt water? Chlorine from swimming pools, salt from ocean water, and dirt in all bodies of water can be damaging to your hair extensions. Also, swimming with your extensions clipped in may lead to the extensions tangling with your natural hair, which can be damaging.  
Avoid working out with your hair extensions in
Avoid doing any physical activity that could lead to excessive sweat, when you are wearing hair extensions. Remember, your sweat is salty, acidic and can dry out your hair extensions so this could lead to additional matting and tangling, causing your hair extensions to deteriorate faster. To increase the lifespan of your extensions, try to minimize their exposure to sweat. Instead, be sure to un-clip them before heading to the gym! 
---
Was this article helpful?
---