My extensions don't blend with my hair. How can I blend them in?
We're really sorry to hear that you're experiencing difficulty blending in your extensions. We're here to help! We'll walk you through some key tips and tricks that will help your extensions blend in more naturally with your hair type or hair cut. 
Why are my extensions not blending?
There are multiple reasons why your extensions may not be blending. One of the most important factors that we let our customers know is that everyone has a different hair type and cut. While some customers can pull off clipping in their Luxies straight out of the box and it looking fantastic, other customers may need to put in a little bit more work in order to fully customize their set to have it match their hair perfectly. For example, if you have lots of layers throughout your hair, odds are you will have to layer your extensions so that it matches in with those layers. 
Why else may your extensions not be blending?
The incorrect weight was purchased for your hair type. Interested in learning how to pick the right set for you? Check out this support article.
The incorrect weight was purchased for your hair length. 
You have a unique hair cut like a lob or blunt cut. What can I do to make them blend in better?
What can I do to make them blend better?
Trim and/or layer your extensions
While it may seem like a waste to cut off hair that you've purchased, it is so important to achieving that natural flow so it's not obvious where your real hair ends and the extensions begin. We also recommend having the extensions cut by an experienced hair stylist while the set is in your hair. It will also be helpful for you to number the wefts so you know exactly which weft goes where. 
Hide the bottom layer of your hair
One of the biggest giveaways that you are wearing hair extensions are those bottom layers of your own hair that show underneath the extensions. Also, if you have a lot of hair you may need to pin back a portion of your hair for a more seamless blend. First, section the bottom of your hair (from the middle of your ear to ear), braid it (or tie it back using an elastic band), and pin it securely against your head.
Place your bottom-most weft directly above where you've pinned your hair, and continue clipping your hair extensions in from there. Once you have all the wefts in place you can let down your hair and the result will look a lot more natural! Below is a video example of how to do this.
Style your extensions with a curl or wave
Although Luxies look amazing with straight hair, wavy or curled styles can look more natural to help hide that divide between your natural hair and the longer extensions. 
Purchase a Volumizer Weft
This is a 40-45 gram, 4-clip weft that will add more volume to your hair and will compensate for the lack of thickness in your current set. Not sure if the Volumizer Weft will help? Email our Support team at info@luxyhair.com with a photo of your hair with and without your Luxies clipped in and we'll be happy to help!
Wash your extensions
If you haven't already done this, we suggest doing so. Many of our customers find that washing the hair makes it fluff up and expand, which makes the set look and feel thicker, which may help with how it blends in. Curious to know the right way to wash your Luxies? Click here.
Also, some customers feel that washing their extensions makes them blend better with their hair texture. You can also experiment with different curl patterns without having to buy an array of curling wands. Click here for 4 ways to air dry your extensions.
Curl your extensions with your natural hair
This is a great hack—take a piece of your own hair and a piece of hair from the extensions into each curl. This will help blur that line differentiating your hair from the extensions. That way when you brush your hair out, it will flow seamlessly into the extensions. Below is a video example of how to do this.
Clip in the wefts higher up on your head
Or, simply spread them more apart in the spacing as this can help with blending. Although there is a general sequence in which extensions should be clipped in, we all have different hair types, head sizes and shapes, so it won't always be consistent. Play around the wefts and find what positioning and sequence works best for you and with what wefts.
Find your safe zone
This is very important for those with fine hair and to ensure that your wefts don't show through your hair. This area on your head is where the clips will not be seen. The safe zone is anywhere below the line of your eyebrows. Draw an imaginary circle around your head from one eyebrow to another; anywhere below that circle is where your wefts are going to be clipped in.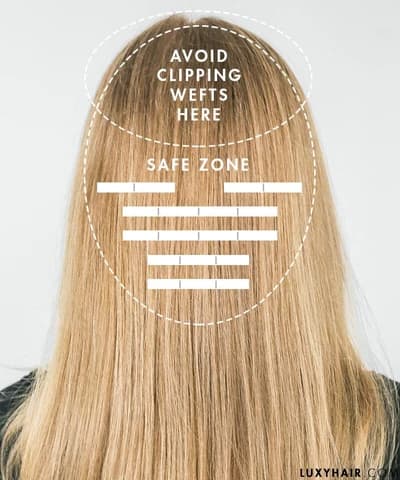 Make a solid base for the wefts
This means that you need to create something at the roots of your hair that will allow the clips to hold on to something without sliding or tugging throughout the day. First, try teasing each section of hair at the root before you clip in your Luxies. Then, spray each section with either a hairspray, sea salt spray, or volumizing spray (you may even use a dry shampoo). This will help create a better surface for your Luxies to attach to and should eliminate the slippage.
If you didn't want to tease your hair, you may also 'twist' your hair around like a twirl, so that there is a large amount of hair for the clips to clip on to. If that doesn't work, you can even try braiding the section of hair where you want your Luxies to clip in so that the clips can catch onto the braid for support.
Stack your wefts
A really neat trick when wearing extensions is to stack the wefts on top of each other. What this does is creates more volume, but you are still technically clipping in one weft onto your actual hair. This is a great way to free up some space on your scalp and hide some of that bluntness in your haircut as well. 
Clip a two-clip weft diagonally to frame your face
Clipping your wefts in a diagonal line is a simple trick to make your extensions less obvious around your face. This method gives your hair a natural high to low effect that will fall naturally which will frame your face.
Need more help?
Email our Support team at info@luxyhair.com with a photo of your hair with and without your Luxies clipped in (from the front and back) and we'll be happy to help!
---
Was this article helpful?
---