What is the purpose of the tester weft?
We understand that it can be hard to determine your perfect Luxy color match from a computer screen. It looks like you're Chocolate Brown overall, but in some photos you think Chestnut Brown may be a better match. Wait—Dark Brown? That may also blend, too! Who knows, maybe you're Ash Brown after all.
Hair extensions are an investment for many people, and we want your purchase to be risk-free and anxiety-free. This is why we designed our packaging to be divided up into two compartments. One of the compartments holding your main set of extensions, and the other compartment holding your tester weft.
Our Ponytail Extensions, Clip-In Buns and each full set of Clip-In & Halo® hair extensions include a tester weft. You can use this weft to compare it to your own hair before committing to the set. Please note the Volumizer Wefts do not come with a tester weft.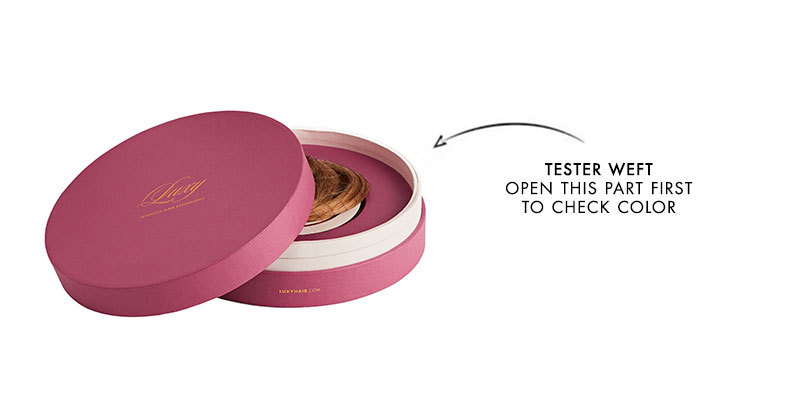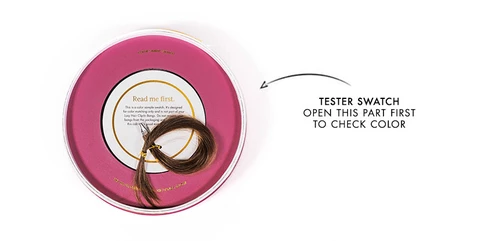 What is a tester weft? 
The tester weft is located in the top compartment of the round box.
You can take out this piece to determine if the color is a good match.
For Clip-Ins and Halos, your tester weft will be a 2-clip weft.
If you ordered the Ponytail Extension, or Clip-In Bun, this will be a small lock of hair.
This tester weft is part of the full set. It is the 10th weft to your Clip-In set & the 3rd weft to your Halo set.
Your tester weft should be used for color, length & texture comparison purposes only. It should not be cut, dyed, or styled in any way until you have committed to keeping the full set.
 What do I do with the tester weft?
Please open the tester weft compartment prior to opening the main compartment. 
Unravel the tester weft from its hair netting.
Hold the card and weft up against your hair in natural lighting to determine if the shade is the right match for you. We also recommend checking other light sources to see if the match changes by light (e.g. fluorescent or shadow).
If it's the right match, you may open the main compartment of the box and enjoy your Luxies! 
 What should I not do with the tester weft?
Please do not remove the tester weft from the golden security tie and the card it is attached to.
Please do not clip-in the weft to your hair, only hold it up against it. This is because hair extensions are a hygienic product, and since this weft is part of the full hair set, if you do not wish to keep the set, it will be sold to another customer. 
Please do not tamper with the tester weft in any way. This includes dyeing, toning, cutting, curling, straightening, and washing. 
What is your return and exchange policy?
We are happy to accept Luxy Hair sets back for a return or exchange within 60 days of purchase as long as the main compartment of the box has not been opened or tampered with, and the tester weft is still in its original condition. As a kind reminder, the tester weft should be included in your returned set for any exchanges or refunds. For more information, click here.
We are also happy to accept unopened Last Chance sets back for an exchange or store credit only.
Have more questions? We're here to help—please email our Support team at info@luxyhair.com. We respond to all emails within 24 hours. 
---
Was this article helpful?
---